Which stallions give the best tölt?
9. October 2020
Breeding News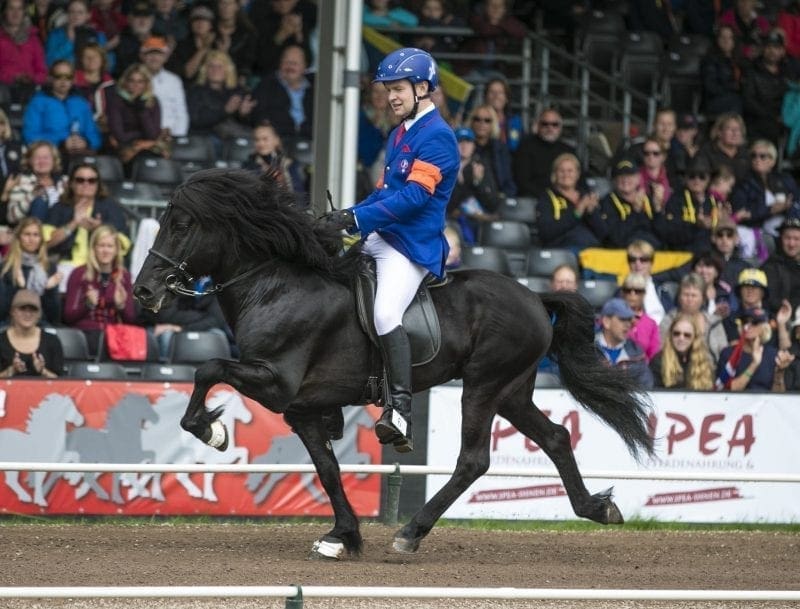 See a list of stallions with 4-9 judged offspring!
After the breeding show season is over, it is quite exciting to sit down and calculate all kinds of statistics, just for the fun of it as for general information.
Stallions with 4-9 judged offspring are 64 this year. We want to look at their gaits and see the average score for each ability. We start by looking at tölt and slow tölt.
The offspring of Pistill frá Litlu-Brekku have the highest average score for tölt, 8.88. Pistill sired for fully assessed offspring this year with an average age of 5.3.
Tígull fra Kleiva is the stallion with the highest average score for slow tölt, 8.70 and an average age of 7.2.
Below is a full list of these stallions and average age and scores for the two abilities.
| | | | | |
| --- | --- | --- | --- | --- |
| Stallion | Nr. of fully assessed offspring | Avg. age | Tölt | Slow tölt |
| Pistill frá Litlu-Brekku | 4 | 5,3 | 8,88 | 8,50 |
| Straumur frá Feti | 4 | 5,8 | 8,63 | 8,00 |
| Tígull fra Kleiva | 5 | 7,2 | 8,60 | 8,70 |
| Álffinnur frá Syðri-Gegnishólum | 8 | 8,0 | 8,56 | 8,50 |
| Hringur frá Gunnarsstöðum 1 | 8 | 5,0 | 8,56 | 8,31 |
| Skaginn frá Skipaskaga | 8 | 4,5 | 8,50 | 8,13 |
| Vákur frá Vatnsenda | 7 | 5,7 | 8,50 | 8,07 |
| Kvistur frá Skagaströnd | 5 | 6,8 | 8,50 | 8,00 |
| Uggi frá Bergi | 5 | 6,4 | 8,50 | 8,10 |
| Hákon frá Ragnheiðarstöðum | 5 | 5,6 | 8,50 | 8,00 |
| Huginn frá Haga 1 | 4 | 7,3 | 8,50 | 8,25 |
| Rammi frá Búlandi | 4 | 5,8 | 8,50 | 8,13 |
| Rökkvi frá Hárlaugsstöðum | 4 | 10,3 | 8,50 | 8,00 |
| Smári frá Skagaströnd | 8 | 7,1 | 8,44 | 7,88 |
| Hreyfill frá Vorsabæ2 | 7 | 5,3 | 8,43 | 8,21 |
| Orri frá Þúfu í Landeyjum | 7 | 8,9 | 8,43 | 8,00 |
| Knár frá Ytra-Vallholti | 6 | 6,7 | 8,42 | 8,42 |
| Auður frá Lundum II | 5 | 8,4 | 8,40 | 8,40 |
| Sædynur frá Múla | 5 | 8,0 | 8,40 | 8,20 |
| Korgur frá Ingólfshvoli | 8 | 7,4 | 8,38 | 8,44 |
| Gandálfur frá Selfossi | 4 | 6,8 | 8,38 | 8,25 |
| Stjörnustæll frá Dalvík | 7 | 5,6 | 8,36 | 8,21 |
| Narri frá Vestri-Leirárgörðum | 7 | 5,7 | 8,36 | 8,29 |
| Lexus frá Vatnsleysu | 6 | 5,7 | 8,33 | 7,92 |
| Mídas frá Kaldbak | 6 | 7,7 | 8,33 | 8,50 |
| Krókur frá Ytra-Dalsgerði | 5 | 6,2 | 8,30 | 8,10 |
| Organisti frá Horni I | 5 | 5,0 | 8,30 | 7,90 |
| Stormur frá Herríðarhóli | 5 | 5,8 | 8,30 | 8,00 |
| Kappi frá Kommu | 5 | 8,0 | 8,30 | 8,00 |
| Grímur frá Efsta-Seli | 9 | 5,6 | 8,28 | 8,22 |
| Garri frá Reykjavík | 8 | 7,1 | 8,25 | 8,31 |
| Jarl frá Miðkrika | 4 | 5,5 | 8,25 | 8,00 |
| Gaumur frá Auðsholtshjáleigu | 5 | 8,6 | 8,20 | 8,00 |
| Konsert frá Korpu | 5 | 6,0 | 8,20 | 8,00 |
| Hágangur frá Narfastöðum | 5 | 6,8 | 8,20 | 8,00 |
| Erill frá Einhamri 2 | 4 | 5,0 | 8,13 | 7,75 |
| Fláki frá Blesastöðum 1A | 4 | 6,3 | 8,13 | 8,25 |
| Sólon frá Skáney | 4 | 8,3 | 8,13 | 7,75 |
| Depill frá Votmúla | 4 | 7,3 | 8,13 | 8,13 |
| Eldjárn frá Tjaldhólum | 4 | 9,5 | 8,13 | 7,75 |
| Hersir frá Lambanesi | 9 | 5,4 | 8,11 | 7,83 |
| Illingur frá Tóftum | 5 | 6,4 | 8,10 | 7,50 |
| Teigur vom Kronshof | 6 | 6,3 | 8,08 | 8,00 |
| Þristur frá Feti | 6 | 7,2 | 8,08 | 7,92 |
| Kolskeggur frá Kjarnholtum 1 | 7 | 5,6 | 8,00 | 7,93 |
| Gangster frá Árgerði | 6 | 5,3 | 8,00 | 7,92 |
| Óðinn vom Habichtswald | 5 | 5,2 | 8,00 | 8,20 |
| Hrafn frá Efri-Rauðalæk | 5 | 6,0 | 8,00 | 7,90 |
| Þórálfur frá Prestsbæ | 5 | 5,2 | 8,00 | 7,60 |
| Klakinn frá Skagaströnd | 4 | 6,3 | 8,00 | 8,00 |
| Spólíant vom Lipperthof | 4 | 5,5 | 8,00 | 7,88 |
| Víðir frá Prestsbakka | 4 | 7,3 | 8,00 | 7,50 |
| Krákur frá Blesastöðum 1A | 9 | 8,3 | 7,94 | 7,83 |
| Markús frá Langholtsparti | 5 | 5,6 | 7,90 | 7,40 |
| Lykill frá Blestastöðum 1a | 5 | 6,8 | 7,90 | 7,80 |
| Draupnir frá Stuðlum | 4 | 4,5 | 7,88 | 7,50 |
| Bassi frá Efri-Fitjum | 4 | 8,0 | 7,88 | 8,25 |
| Vaki fran Osteraker | 5 | 5,0 | 7,80 | 7,50 |
| Magnus fra Moselundgard | 5 | 7,0 | 7,80 | 7,80 |
| Viking fran Österaker | 4 | 5,0 | 7,75 | 7,75 |
| Hraunar frá Efri-Rauðalæk | 5 | 9,6 | 7,70 | 7,70 |
| Vilmundur frá Feti | 6 | 7,0 | 7,67 | 7,75 |
| Klettur frá Hvammi | 4 | 11,3 | 7,63 | 7,75 |
| Dagfari frá Sauðárkróki | 4 | 6,5 | 7,38 | 7,00 |