Kveikur from Stangarlækur 1 sold to Denmark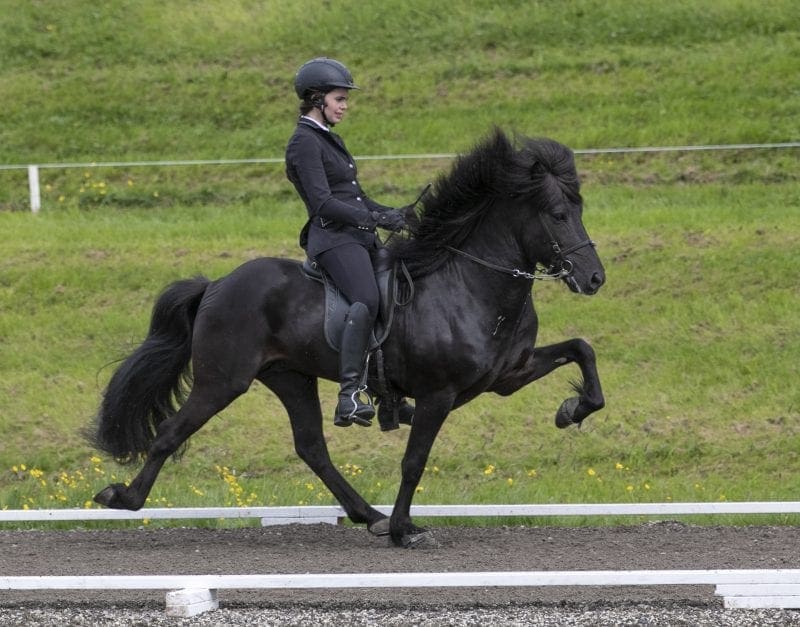 The famous stallion Kveikur from Stangarlækur 1 has been sold. The new owners reside in Denmark
Kveikur was one of the stars of last Landsmót in 2018 where he received no less than 10 for both tölt and temperament. He also scored 8,53 in his first outdoor T1 competition earlier this summer. His rider then and until now has been Aðalheiður Anna Guðjónsdóttir
Kveikur has also been one of the most in-demand stallion for breeding in Iceland in the past couple of years.
The breeders and sellers of Kveikur are Birgir Leó Ólafsson and Ragna Björnsdóttir. They say that the price of Kveikur is confidential and the decision to sell him was not an easy one. "We first thought of the possibility of selling him when Landsmót was cancelled, that was supposed to be his last competition. We then entered discussions about his sale after the Reykjavík sport tournament in July. We only have a relatively small breeding here at Stangarlækur 1 and decided that we wanted to build that around Kveikur's mother, Raketta frá Kjarnholtum. We also have now 11 offspring of Kveikur here and more hopefully on the way, so we hope to keep his DNA in our breeding. We want to congratulate the new owners, Gitte and Flemming Fast with their new horse and wish them all the best in the future. We also want to give special thanks to Aðalheiður Anna and Reynir Örn at Margrétarhof that have played a huge part in Kveikur's success in the past year and we can never thank them enough for that."
The new owners of Kveikur are Gitte and Flemming Fast from Denmark. They are very excited about their new star. "Kveikur is of course a star for a lot of people, but mostly for Ragna and Birgir, that have been able to breed and follow him since his birth, and watch him develop into a superstar. For all breeders we think, that is the goal. And they made a good choice with Aðalheiður being his trainer and rider. She has also done a fantastic job.
We have for some time taken interest in stallions on Iceland, which we want to train and show there and later on bring them to our place in Denmark, Lindholm Hoje, – close to Aalborg. We plan to bring Kveikur to Lindholm Hoje this fall. He needs to settle in at our place, and hopefully be ready for some shows and maybe also competition during the winter and next year. For now we haven´t decided on a rider for him here in Denmark, but will have someone later this year. From the spring he will also be covering mares at our place. We want to thank Birgir and Ragna for trusting us with this magnificent horse and hope that he can be a good ambassador for them for years to come."